Own the Holiday Season
The Holiday Season is a critical time for brand advertisers. It can also be complicated and dynamic, requiring nuanced solutions in order to maximize campaign ROI. inMarket and Thinknear offer advanced solutions that enable advertisers to own the holiday shopping season.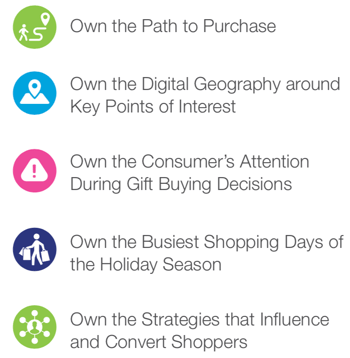 ---
Holiday Shopping Traffic
At inMarket, we're constantly analyzing the retail visitation and purchase patterns of our 50MM Comscore verified SDK integrated U.S. consumers. This accurate and actionable data provides powerful digital advertising capabilities for our partner brands, while also revealing macro trends about purchase behavior at scale.
Through the lens of our massive historical data sets, we've identified the most important shopping dates based on the heaviest foot traffic in each retail category.
Black Friday
The first and largest shopping day of the season is almost mythical in its importance — at $12.5 billion in predicted sales1, the opportunity for marketers lives up to the hype. According to inMarket's data, November sees a build up in foot traffic with each weekend greater than the last. Cyber Monday's dip in foot traffic is not necessarily an occasion to drop advertising budgets, but rather pivot messaging to competing with online deals. This is the best period to reach holiday party enthusiasts, conquest competitors, and target heavy shoppers, gift researchers, and out-and-about shoppers.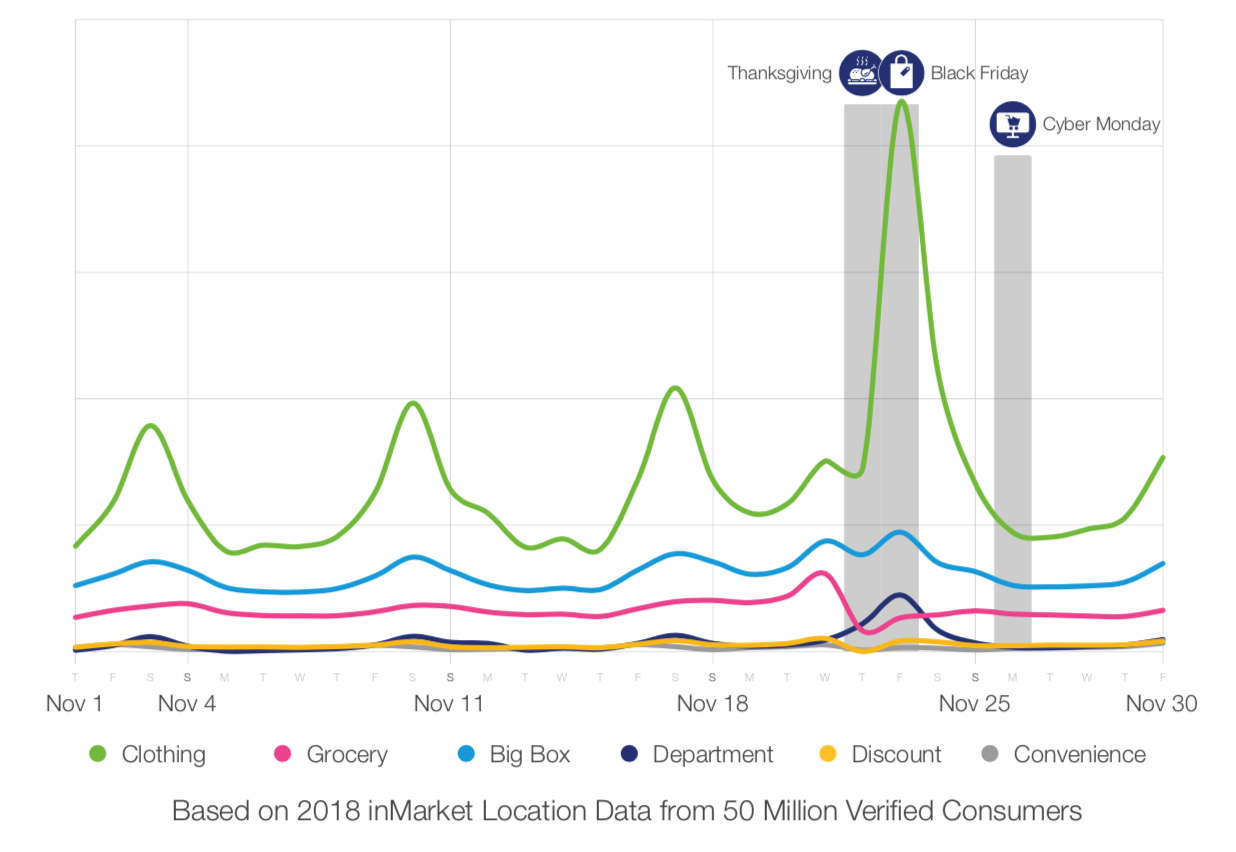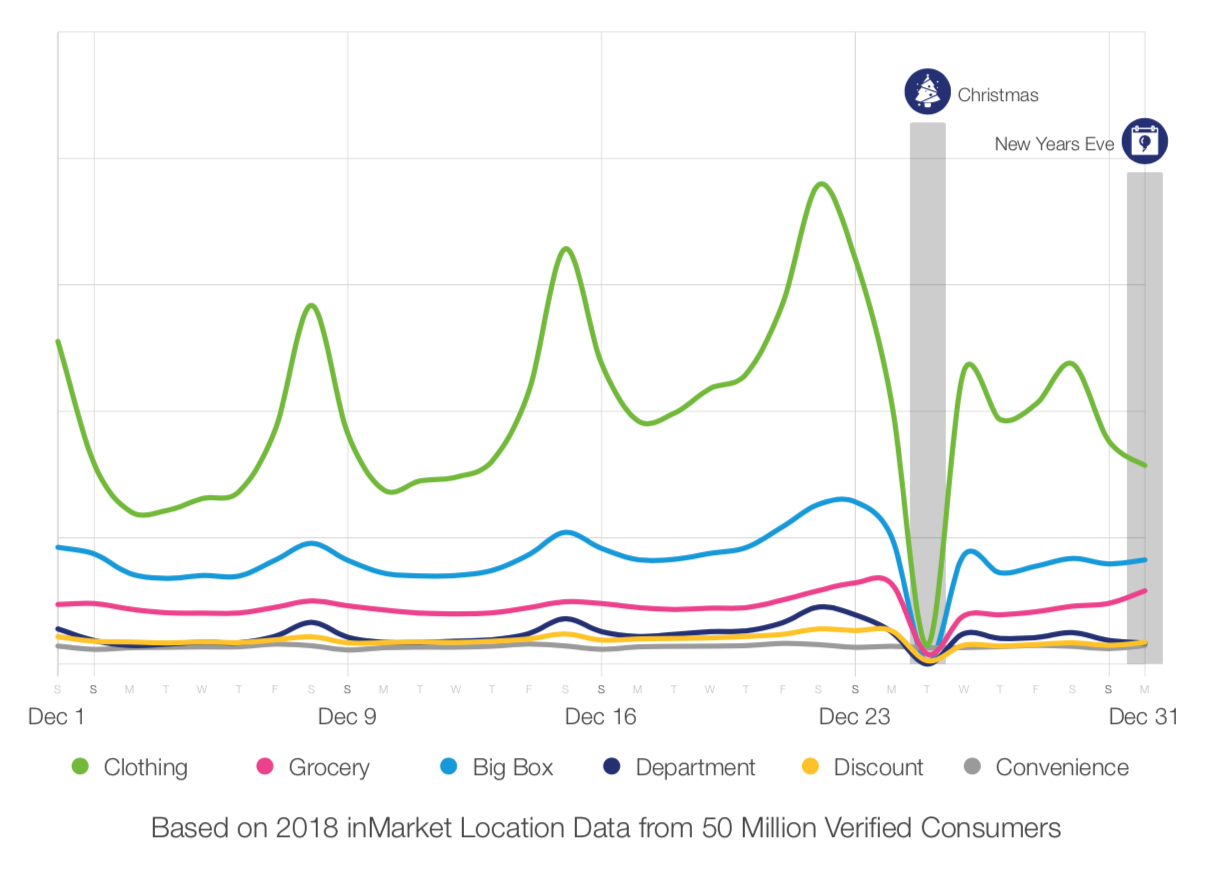 Holiday Ramp Up
For those who missed the window to advertise
on Black Friday, there's another opportunity: The three weeks leading up to the end of December is a high foot traffic period for consumers of all types. 43% of customers won't make their first holiday purchase until after Cyber Monday — this group will be split amongst those who heavily research each and every gift and those who will rush to stores at the last possible moment (indicated by the largest spike post-Black Friday on December 23rd). These three weeks will be a critical time to conquest from your competition and direct heavy seasonal shoppers towards action.
Reach Holiday Party Enthusiasts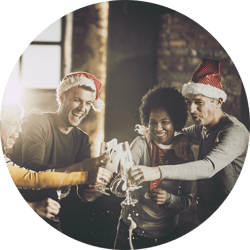 We all know at least one: the consummate party planner. This user is not typically not just the center of the party, but the planner of it. U.S. consumers will on average spend $215* on non-gift holiday purchases (such as food and decorations)1. Leveraging the power of inMarket's suite of products, marketers can reach those engaged in holiday revelry prior to, during, and after their party supply runs. In addition, inMarket is capable of expanding targeting to reach consumers who have already been identified as party planners. Historic visitation-based targeting can be leveraged in hand with Preceptivity to reach those who have made similar trips before, all while targeting media the day (or days) leading up to their trip.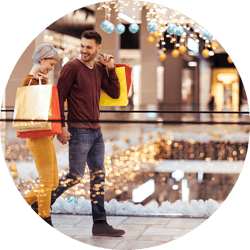 A perennial strategy, targeting the areas around your competitors' store locations is no longer limited to mere GeoFencing. GeoCookie & Preceptivity can be used in tandem to reach those who have previously been to competitive storefronts as well as preempted user's journeys to competitors by strategic pre-visit messaging. Purchase behaviors and propensities are also usable as targeting criteria with Audiences. Finally, with Moments, marketers are able to launch digital takeovers of entire screens within store locations to maximize your hold on consumers' attention and cut through the clutter of massive holiday messaging efforts.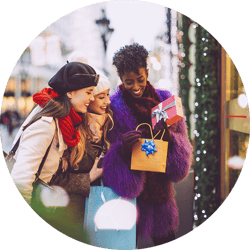 The holiday season is one that raises market demand for consumers' attention dramatically. Optimizing the efficacy and readiness to deploy messaging across each step of the consumer's journey will be paramount for any brand. From holiday downtime at home, where consumers can be targeted based on anything from demographics to affinities, inMarket can utilize increasingly tactical and local methods for reaching your ideal customer. For example, a customer reached through Audiences or Preceptivity at home can then pass through a wide GeoFence around a store location (another touch point) and be served messaging again upon entering the store.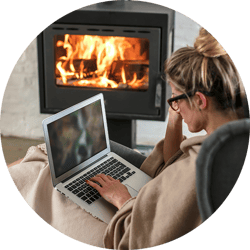 Many approach holiday gift giving with analytical zeal unmatched by some of the savviest researchers — as many as 47% of US consumers will find inspiration for their top holiday gifts online2. Two-thirds of users will then research on their mobile device prior to making a purchase for the holidays2. Owning this real estate is of the utmost importance to increasing your awareness, engagement, and purchase propensity. Use GeoAudience as well as Preceptivity to reach these consumers prior to their journey to purchase gifts they have researched. inStore or inHand Moments can be used further influence users with value-based messaging that is important to this group.
Heavy Seasonal Shoppers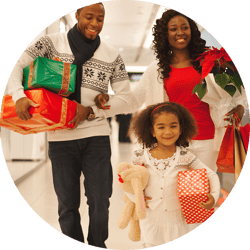 The average consumer will spend $313 on gifts for family and friends2; however, there will always be those who spend much, much more (and often add to significantly higher value for brands). GeoAudience can be used to target those who spend more than that, or GeoCookie for customers based on frequency of visit. Owning the digital geography of key, high-traffic retailers will be necessary for brands vying for these frequently high-spending consumers.
SOURCES:
1.) National Retail Federation; 2018 Annual November Holiday Consumer Survey (Conducted by Prosper Insights & Analytics)
2.) De Cunha, Margot; 14 Holiday Shopping Stats to Help You Plan in 2019 (WordStream)
---

The Holiday Season is a critical time for brand advertisers. It can also be complicated and dynamic, requiring nuanced solutions in order to maximize campaign ROI. inMarket and Thinknear offer advanced solutions that enable advertisers to own the holiday shopping season. Now, with two leaders under one roof, you can own the holidays through vastly increased scale of now over 150 million unique devices, expansive new data sources around behaviors and motivations, and far more granular targeting.
Metric to Prove ROI
Sales Lift

Purchase Intent Lift

Brand Awareness Lift

Foot Traffic Lift

CTR

Strategic Campaign Insights