At inMarket, we're aggregating and analyzing location data from over 50 million anonymous consumers per month, via hundreds of apps. (Don't take our word for it. Our scale is verified by comScore.)
We use that data to power best-in-class advertising programs for the world's top brands and retailers. It's also very useful for predicting business trends, and drawing quality insights on how Americans truly shop in the real world.
This week we're putting that data to work in a new format, and we're introducing a quick-fire version of our popular inMarket inSights deep-dive category reports: The inMarket inSights Report Card. These one-page analyses will reveal location data insights and add context to the hottest business trends in real-time.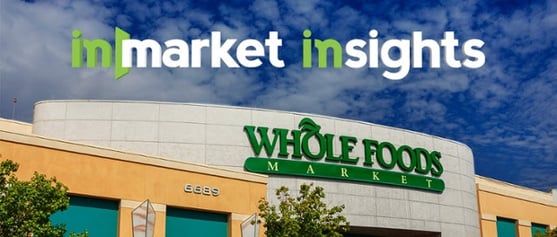 Our first edition inMarket inSights Report Card covers Amazon's impact on foot traffic at Whole Foods since taking control on 8/28 -- with a quick look at competitive grocers as well.
Check out the inMarket inSights Report Card for Amazon's Whole Foods -- live today at www.inmarket.com/insights.