We've been growing consistently for the past decade and have just completed our biggest year and biggest quarter ever. Our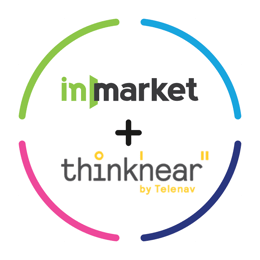 goal has always been to provide the most accurate, responsive, and scalable strategies to help you grow. This is why we have consistently delivered new, innovative and exclusive solutions that help you reach and exceed aggressive KPIs.
To continue exceeding your expectations, we're excited to announce that we've acquired Thinknear -- another veteran, top performing location technology leader. Our new combined family will deliver even more performance, value and exclusive capabilities. We aim to continue to be the highest performers and most complete solution for your consumer marketing needs.
Why this is important for inMarket clients:
---
inMarket clients will gain access to all of Thinknear's products such as Geotype and Geolink, as well as legendary location score performance.

inMarket clients will gain new options to serve their needs via best-in-class managed as well as self-service platforms that lead performance benchmarks for ROI, viewability, and other measurement KPIs.

inMarket clients will continue to have access to all of our advanced media, including Moments, Preceptivity and Audiences.
inMarket clients will continue to have access to advanced insights and campaign measurement services derived from our 50 million Comscore verified smartphone integrations.

inMarket clients will be able to continue working with the same award-winning sales, account management and ad-ops teams that have helped them drive successful campaign results over the past decade.
For more information on inMarket, Thinknear, or to ask questions about how this will affect your account and goals, simply follow the links below.